May/ June 2012
According to the beginning of summer and the coming summer-vacancies we intend to decorate and ornament one of the June-Services with several pieces from renaissance and baroque, adoring and praising the summertime. In the center of these pieces we've placed a contemporary piece as a rest-point to think about nature, creation and the life itself.
Program

| | |
| --- | --- |
| Title | Composer |
| Le Rossignuol (Die Nachtigall) | Orlando di Lasso |
| An Hellen Tagen | G. Gastoldi |
| Herzlich tut mich erfreuen | M. Praetorius |
| Feinslieb, hast mich umfangen | H.L. Hassler |
| Herr, du kommst und gehst... | H. Große-Schware |
| aaAir (aus The Fairy Queen) | H. Purcell |
| Rondeau | H. Purcell |
| Entry Dance (TFQ) | H. Purcell |
Neue MitspielerInnen sind jederzeit herzlich willkommen, besonders diejenigen mit großen Blockflöten (ab Bassflöte abwärts). Bei Interesse wenden Sie sich bitte an das Gemeindesekretariat oder direkt an mich (s. Impressum) am besten per Mail.
| Programm | Quellenhof |
| --- | --- |
| Aller Augen warten auf Dich, Herre | Heinrich Schütz |
| Padouana 3a | William Brade |
| Gaillarda 3b | |
| Allemanda 3c | |
| Herzlich tut mich erfreuen | Michael Praetorius |
| Choo Choo Train | J. D. Carey |
| Ave maris stella | E. H. Grieg |
| Courente aus Suite Nr. 18 | Joh. H. Schein |
| Zugabe | |
New!


Choo Choo Train on YouTube
Gottesdienst am Ewigkeitssonntag

We will perform:
"Ave maris stella" von E. Grieg, den Choral "Verleih uns Frieden gnädiglich" von M. Praetorius und verschiedene Bearbeitungen der Liedsätze zu "Wer nur den lieben Gott lässt walten" und "Wachet auf, ruft uns die Stimme".
Service: Holy Thursday 01.04.2010, 17 p.m

| Title | Composer |
| --- | --- |
| Flow my Tears | Dowland |
| Clarifica me | Tallis |
| Sicut Cervus | Palestrina |
| Verily, verily I say unto You | Tallis |
| Sitivit Anima mea | Palestrina |
| The Image of Melancolly | Holborne |
| | |
The famous "Sicut Cervus" is a two part motet from Palestrina. The second
part "Sitivit Anima mea" often is omitted. Both parts refer to Ps. 42.
The concert has been recorded. You'll find some Intros at this page!
New! Sicut Cervus auf YouTube  
New! Sitivit Anima Mea auf YouTube
Doppelkonzert on 11.09.10 at Stephanuskirche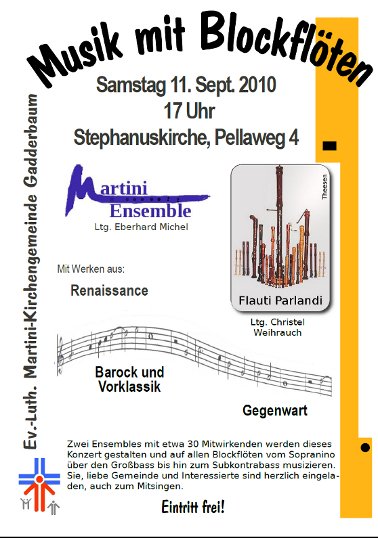 On September 11th at 17 p.m. theMartini-Ensemble, conducted by Eberhard Michel, und the Ensemble "Flauti Parlandi" from Theesen conducted by Christel Weihrauch will perform together a concert at Stephanuskirche.
You will hear pieces from renaissance to contemporary works on recorders of all kinds (sopranino upto the double-double bass, one of the largest recorders played nowadays). The two ensembles will play on their own and together.
The concert begins with a sacred renaissance-piece as introduction followed by profane pavane leading to a dance-suite (Terpsichore) typical for the time 400 years ago.
The dance-music is framed by two instrumental renaissance-pieces.
The double-choir "Cantate Domino" von R. Taeggio will be performed by the two ensembles in common. The audience is invited to sing several canons with us. The Concerto II from J. Baston, a "Divertimento" from Mozart and two parts of a piece from J. Chr. Bach, a so called "Freiluftmusik", transscribed for recorder orchester, will lead to high-baroque and preclassic. Two contempory pieces will conclude our concert.
The leaders of both ensembles, Eberhard Michel and Christel Weihrauch, will be glad to see you as visitors.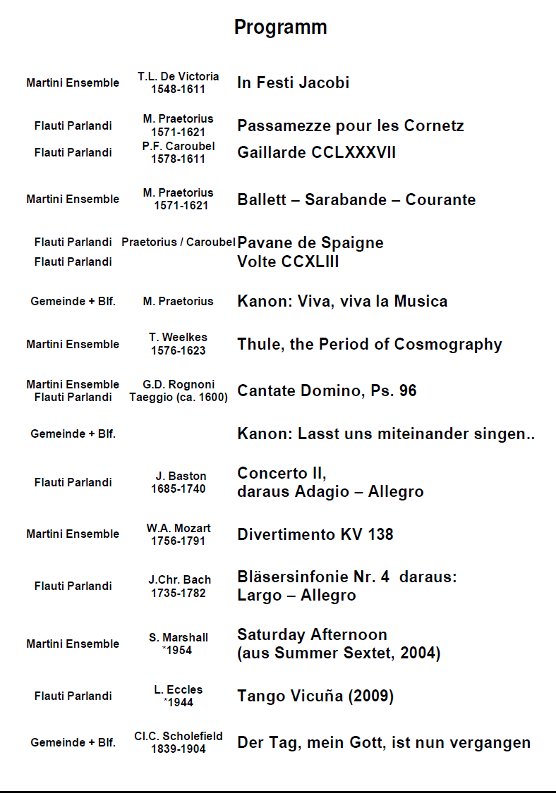 The concert has been recorded. You'll find audio-examples (intros)
here.